Weekend was long, since I was under writing pressure. But despite all stressy and messy thoughts, I managed to finish my text around noon today and the whole Sunday afternoon was there waiting for me. Since I didn't feel very well, the first and the most important thing on the todo list was running.
Tnx to Škrat, there is a nice new Nike+ SportWatch shinning in our working room. I abused the fact, that the watch master himself was away and decided to take control over the gadget for that planned run. I stuck the foot-pod into my running shoes, put on the wrist watch and ran. No extra preparations, without reading manual.
This running watch is simply brilliant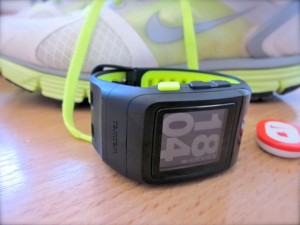 Not that I wouldn't be happy with my good old Polar RS 300X G1, but using the Nike+ SportWatch just felt right. This watch simultaneously uses GPS and foot-pod for measuring distance and speed, the foot-pod calibration is constantly optimized with the GPS data and if GPS fails (under clouds, in the woods etc.) you still get precise data of your run from the foot-pod.
What made me happy at first sight:
it's sexy,
it's sports-watch, but with very nice design
and it even looks very well with my Lunarglide shoes,
on the finish line the watch congratulad for my first well-done run.
At first touch, I was even happier:
definitely the best watch GUI – intuitive, no clutter, no doubts,
smart placed buttons that are only on the left (if you are wearing watch on your right hand, it might be little less smart),
easy wrapping,
"quick-start", since it works well with the foot-pod and you don't have to wait to find the satellites.
It is simple, it is nice, elegant and it works
So if you are in need of a new running/walking/hiking watch, consider the new Nike+ SportWatch. But mind (!), that it comes without heart-rate monitoring and that foodfoot-pod works only with the Nike+ shoes.