Since I've already posted one recipe in German language, I guess, I would like to believe, that I owe the interwebz one in English. This one is about "buhtlji". Buhtlji pl. (sg. is buhtelj) are jam-donuts—baked in an oven, not fried :-)
Thanks for the recipe goes to many Slovenian mothers and grandmothers. Though every one of them has her little secret, making her buhtlji extra fine and delicious! Usually eaten as a dessert, after simple lunch like vegetable or bean soup. Also awesome with warm cacao, tea or chocolate milk in cold winter eves…
How to
Take:
15 cl warm milk (not hot)
20 g of yeast
3 spoons of sugar
Put the ingredients in a pot, stir gently and let the yeast rise a little.
In bigger bowl prepare:
750 g flour (fine white flour, like for donuts or desserts)
pinch of salt
1 egg + 2 additional egg yolks
100 g butter sliced into thin pieces
scraped lemon peel
1 spoon of rum (dark rum, with added caramel aroma or similar)
1 spoon of cream
Add the yeast-mixture in to the bowl and mix all together gently at first with spoon, then with hands. Dough is properly mixed, when it stops sticking to your fingers. (You may add some extra water or flour when necessary.)
Let the dough rise in a warm place for about 1 hour.
Preheat oven to 180°C.
Take baking tray ca. 35 x 25 cm and grease it with butter.
After 1 hour roll the dough thin, ca. 5 mm and slice it into 10 x 10 cm pieces.
jam (best is home made apricot or plum jam)
Put some jam on every slice, mold it with you fingers into ball/"sacchettini" so that jam stays in the middle and won't leak out while baking, and put buhtlji in baking tray.
Bake ca. 30 min at 180°C and additional 15 min at 160°C.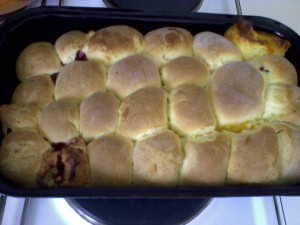 Take buhtlji out from the baking tray (Turn the tray upside-down and it should fall out itself.)
Let it cool down slightly. Dust it with powdered sugar and serve.
Bon Appétit! :-)